LAHORE: PTI leader Fawad Chaudhry was produced before a court by the Islamabad police to seek remand for the transfer of the former federal minister to the federal capital.
The PTI leader was arrested from his residence on Wednesday morning after he publicly criticized the government for planning to arrest party chairman Imran Khan.
آئینی ادارے کی درخواست پر پی ٹی آئی رہنما فواد چوہدری کے خلاف مقدمہ درج کیا گیا۔

سیکرٹری الیکشن کمیشن آف پاکستان کی درخواست پر تھانہ کوہسار میں درج کیا گیا۔

فواد چوہدری نے چیف الیکشن کمشنر اور ممبران کو ان کے فرائض منصبی سے روکنے کے لئے ڈرایا دھمکایا۔
1/2

— Islamabad Police (@ICT_Police) January 25, 2023
Islamabad police confirmed the arrest. A case against Chaudhary was registered last night at the Kohsar police station in Islamabad following a complaint by Election Commission of Pakistan (ECP) secretary Omer Hamid Khan. A first information report (FIR) was filed against him for using threatening language against the ECP and its members.
The PTI leader has been booked under sections 153-A (promoting enmity between groups), 506 (criminal intimidation), 505 (statement leading to public disturbance) and 124-A (sedition) of the Pakistan Penal Code.
Sections 124-A and 153-A are non-bailable charges, while an accused can get bail if charged under Sections 505 and 506 of the PPC.
In his speech outside Imran Khan's residence in Lahore, Fawad warned the ECP, its members and their families, according to the FIR.
The FIR states that Chaudhary said the election commission's status was reduced to that of a "Munshi [official]".
Fawad said those who become members of the interim government will be hunted down until they are punished. He had said that the people sitting in the government would be hunted in their homes.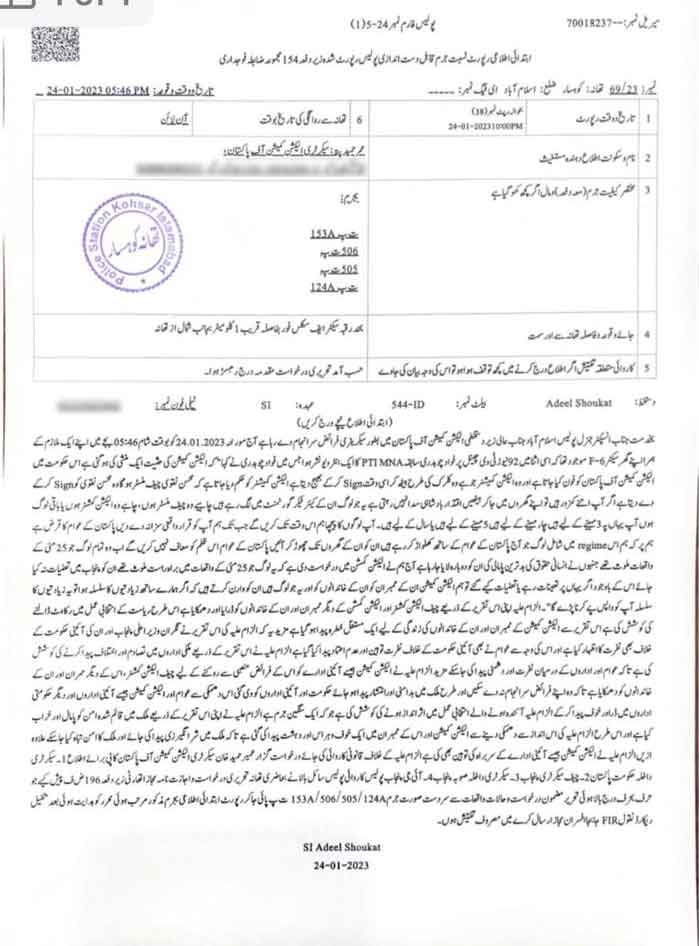 Fawad's arrest comes amid a night-time turnout of PTI workers who rushed to the residence of party president Imran Khan to ensure his safety after he alleged that the government was planning to arrest the former prime minister.
"The imported government has gone mad," tweeted Farrukh Habib. The PTI leader also posted videos on social media of policemen taking Fawad away.
پولیس کی یہ گاڑیاں فواد چوہدری کو گرفتار کرکے لے جارہی ہے pic.twitter.com/CJXiAHO3fQ

— Farrukh Habib (@FarrukhHabibISF) January 25, 2023
Islamabad police sources said the PTI leader was arrested from his residence near Thokar Niyaz Baig in Lahore.
Several party leaders condemned the detention of Fawad Chaudhry. PTI Sindh Chairman Ali Haider Zaidi criticized the government for the arrest.
Strongly condemn the arrest of @fawadchaudhry by the #ImportedGovernmentNaManzoor

Pakistan has become a lawless state at the hands of these lawbreaking lawmakers and corrupt law enforcement officers!

All hell bent on pushing this country towards anarchy!

— Ali Haider Zaidi (@AliHZaidiPTI) January 25, 2023
"Pakistan has become a lawless state in the hands of these law breaking lawmakers and corrupt law enforcement officers," he tweeted.
Speaking to the press earlier in the evening, Chaudhry strongly denounced the government's actions, calling it a nefarious plan to destabilize the country. He went on to call those involved in the alleged conspiracy traitors.
اطلاعات ہیں کہ کٹھ پتلی حکومت آج رات چئیرمین عمران خان کو گرفتار کرنے کی کوشش کرے گی

تحریک انصاف کے کارکنان اپنے لیڈر کی حفاظت کے لیے زمان پارک پہنچ رہے ہیں

— PTI (@PTIofficial) January 24, 2023
"If the police have courage and guts, they should come and arrest Imran Khan," Chaudhry had said.