Pak Suzuki, one of the Big 3 of the local auto industry, has quietly removed its Completely Build Units (CBU) line from its website. If you visit the company's website, go to Products and press the Automobiles button, you'll see only Suzuki's locally assembled vehicles, including the Alto, Swift, Bolan, WagonR and Cultus.
Here are the screenshots of Suzuki's website: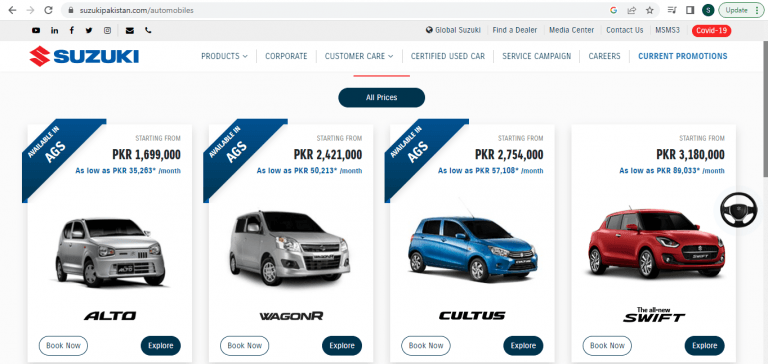 Pak Suzuki CBU Cars
Pak Suzuki CBU cars included Suzuki Vitara, Jimny and APV and it seems that after Suzuki Ciaz and Mega Carry, the company has decided to end these imported vehicles as well. One of the major reasons could be low sales as the local industry has been gradually going through a rough patch over the last several months.
The current price of Suzuki Jimny is Rs. 6,049,000, which is quite high considering the car's size and features. In April 2022, the cost of this vehicle has seen a jump of Rs. 1,459,000, with the current price against the old price of Rs. 4,590,000.
The Suzuki APV is currently priced at Rs. 6,290,000 and similarly, it saw a large increase of Rs. 1,615,000 in April. This huge price jump further slowed the sales of these CBU units and it seems that the company has finally decided to end these products.
Suzuki statement
PakWheels.com has contacted Pak Suzuki officials for their comment on this development. However, the automaker has not sent any response till the publication of this article. We'll add the company's view to the piece as soon as we get one.