Pakistan's technology and communications sector outperformed rival countries in 2022, according to a new report by Topline Securities.
Pakistan's IT sector was benchmarked against the MSCI AC Asia Pacific Information Technology Index as it is the most relevant comparable index. It is a free-float adjusted market capitalization index that tracks large- and mid-cap stocks in 5 developed market (DM) countries and 9 emerging market (EM) countries in the Asia-Pacific region.
The MSCI AC Asia Pacific Information Technology index also includes Pakistan in its index. DM countries in the index include Australia, Hong Kong, Japan, New Zealand and Singapore, while EM countries include China, India, Indonesia, Korea, Malaysia, Pakistan, the Philippines, Taiwan and Thailand.
According to the report, Pakistan's IT sector declined by 22% (in USD), while the MSCI AC Asia Pacific Information Technology Index declined by 33% in 2022. In terms of PKR, the sector's performance remained unchanged throughout during the year.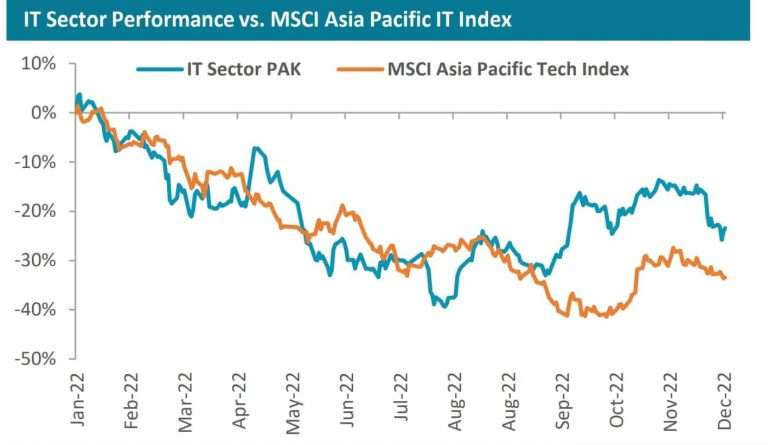 These numbers were mainly driven by Systems Limited (SYS), a Pakistani technology company that provides mortgage, apparel, retail, BPO and other services. The company's market capitalization grew by 4 percent in USD and a remarkable 34 percent in PKR terms in 2022.
The company's earnings grew by 103% in PKR and 60% in USD terms in September 2022.
Other companies in the top 5 list behind SYS were TRG, PTC, AVN and Airlink. The market capitalization for all these companies is down in 2022 by as much as 60 percent.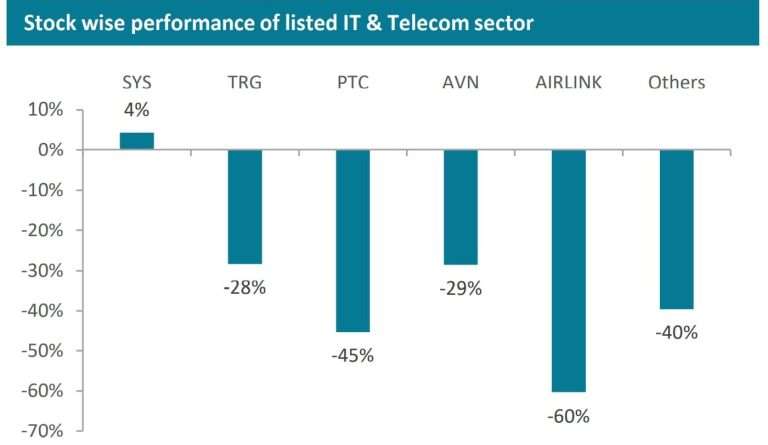 Pakistan's IT exports grew by 9% in the first eleven months of 2022 (11MCY22), while other countries in the global index remained mostly flat throughout the year, according to figures from Gartner IT.
Topline Securities predicts that Pakistan's tech sector will continue to outperform its rivals due to its low base, availability of cheap labor and expansion into the Middle East, where local companies' economies of scale allow them to assemble smaller-ticket projects. These contracts are not feasible for larger IT service companies in the region.
This allows local companies to hire cheaper resources to provide their services. These resources cost about 35 to 40 percent less than other countries in the Asia-Pacific region. Therefore, Pakistan's IT sector is expected to grow by 15 to 20 percent in the next 3 to 5 years.