KARACHI – After Kubra Khan, Lollywood diva Mehwish Hayat has taken legal action against YouTuber Adil Raja for defamatory content shared online.
The Sindh High Court (SHC) ordered the relevant authorities to remove scandalous content against Hayat on all social media platforms.
Initially, London star Nahi Jaunga approached the FIA's Cyber Crime Wing to look into the matter. However, due to lack of progress, he approached the Sindh High Court (SHC). A petition was filed in the SHC by Hayat stating that the 35-year-old actress is "affected by a social media storm that has been created and prevailed due to certain videos made by a person named Adil Farooq Raja who claims to be himself. -claimed to be a "geopolitical analyst" and "rights activist" maintaining a YouTube channel called Soldier Speaks as well as a Twitter handle called Soldier Speaks."
He called the claims made by Raja "blatantly false, derogatory, defamatory, malicious, inflammatory, dangerous [and] sensational" and said they "degraded" the four "top models and actors" he mentioned by their initials in his video. .
Her petition stated that after the Livestream was aired, several social media users on Twitter and Instagram started overlaying Hayat's pictures as well as those other actors whose initials were pronounced by Raja. He alleged that Raja had initialed Hayat's name M and H in the video and "some social media users deliberately with an interest in maligning state institutions and maligning the reputation of the petitioner started a social media campaign on such a video which was raised by Mr. Raja."
Hayat filed an application in court under sections 11 (hate speech), 20 (offenses against the dignity of a natural person), 21 (offences against the modesty of a natural person and a minor) and 37 (unlawful online content) of the Pakistan Cybercrime Act, 2016.
In her petition, the Dillagi star sought six areas of relief from the court — to direct the FIA to take immediate action on her complaints, to ask the FIA to investigate and take action under the law against the users reported in the application and for the court to declare that the FIA's inaction during the interim period is in derogation of the duties imposed on it by PECA, 2016.
It further requests that "the Honorable Court may be pleased to direct the official Respondents/FIA to complete their investigations and issue appropriate orders for the prosecution of such persons including but not limited to the users mentioned in paragraph 6 above and others such as is found to have violated the provision of PESDA 2016 by harming the reputation, modesty and dignity of the petitioner through the use of social media platforms as well as harming the national integrity and state institutions".
The SHC ordered FIA to remove the content defaming Hayat and issued two-week notices to FIA and PTA in the defamation case. Speaking to the media outside court, Hayat said she hoped the people who defamed her would be held accountable for their actions.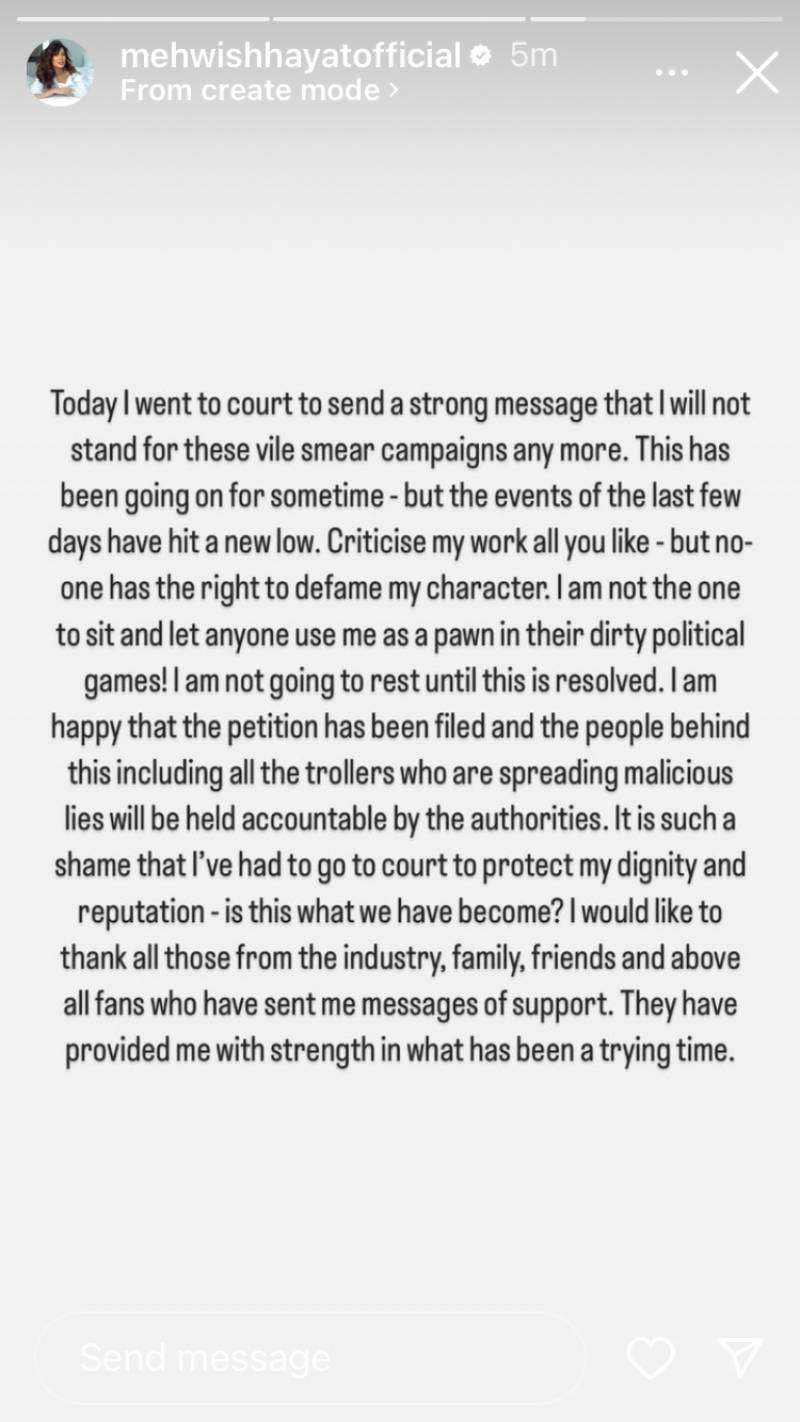 Arguably one of Pakistan's leading superstars, Hayat rose to fame in Meray Katil Meray Dildar and earned Best Actress nominations for Kami Reh Gai. Some of her notable works include Phir Chand Pe Dastak, Dil Lagi, Na Maloom Afraad, Jawani Phir Nahi Ani, Law Actor and Punjab Nahi Jaungi.