In a surprising development, the Federal Board of Intermediate and Secondary Education (FBISE) has announced an increase in the pass rate.
According to the official notification, the pass percentage for the Secondary School Leaving Certificate (SSC) and Senior High School Certificate (HSSC) examinations has increased from 33% to 40%.
The official announcement follows.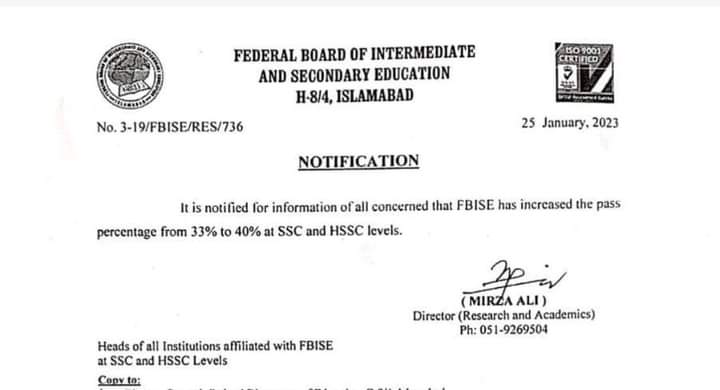 In a separate development, FBISE has decided to conduct separate practical exams instead of composite ones at SSC and HSSC level.
Through Twitter, the Federal Council informed that the practical exams for classes 9, 10, 11 and 12 will be held separately. The decision will take effect from the annual exams in 2024.
#FBISE #FederalBoard pic.twitter.com/f3hcWwN8oh

— FBISE (Official) (@FBISEOfficial) January 26, 2023
In other news, FBISE and EduCareer, an education and career counseling platform, have signed a Memorandum of Understanding (MoU) to launch EduCareer in Malaysia.
According to details, the initiative aims to facilitate Pakistani and foreign students with FBISE/Pakistani qualifications. The Federal Council plans to gradually roll out EduCareer in more countries.
𝗘𝗱𝘂𝗖𝗮𝗿𝗲𝗲𝗿 & 𝗙𝗕𝗜𝗦𝗘 enters this MOU to establish 𝗘𝗱𝘂𝗖𝗮𝗿𝗲𝗲𝗿 in Malaysia and around the globe to facilitate Pakistani & Int students with 𝗙𝗕𝗜𝗦𝗘 / Pakistani qualifications . pic.twitter.com/9qBEuFVp98

— FBISE (Official) (@FBISEOfficial) January 26, 2023